The Waterboys ‎– Fisherman's Box [6CD] (2013) [FLAC] [DJ]
Seeders : 13
Leechers : 2
Description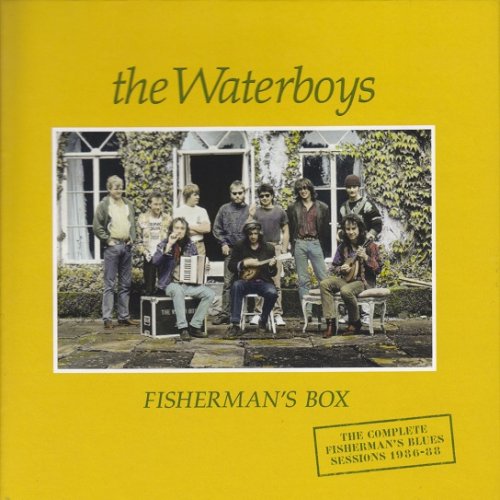 Artist: The Waterboys
Title: Fisherman's Box
Year Of Release: 2013
Label: Chrysalis/Ensign
Genre: Rock, Folk Rock, Celtic Rock
Quality: Flac (tracks, .cue, log)
Total Time: 07:35:35
Total Size: 2.89 GB (scans)

Mike Scott had been pursuing his grandiose "big music" since he founded the Waterboys, so it came as a shock when he scaled back the group's sound for the Irish and English folk of Fisherman's Blues. Although the arena-rock influences have been toned down, Scott's vision is no less sweeping or romantic, making even the simplest songs on Fisherman's Blues feel like epics. Nevertheless, the album is the Waterboys' warmest and most rewarding record, boasting a handful of fine songs ("And a Bang on the Ear," the ominous "We Will Not Be Lovers," "Has Anybody Here Seen Hank?," and the title track), as well as a surprisingly successful cover of Van Morrison's breathtaking "Sweet Thing." [Fisherman's Blues was reissued in 2006 with a bonus disc containing 14 outtakes, alternate versions, and late-night studio jams. It was reissued again in 2013 as a seven-disc box set featuring 121 tracks from the album sessions, 85 of which had been previously unavailable].



CD 1:
1. Stranger To Me
2. Girl Of The North Country (2013 Remastered Version)
3. I'm So Lonesome I Could Cry
4. Fisherman's Blues (Piano Version)
5. Fisherman's Blues (2013 Remastered Version)
6. Meet Me At The Station (2013 Remastered Version)
7. I'll Be Your Baby Tonight
8. Born To Be Together
9. The Wayward Wind
10. World Party (1st Version)
11. World Party / A Golden Age
12. Sleek White Schooner
13. Drunken Head Ghost Of Rimbaud Blues
14. Sweet Thing (2013 Remastered Version)
15. Sweet Thing (Conclusion)
16. Saints And Angels

CD 2:
1. We Will Not Be Lovers (2013 Remastered Version)
2. One Step Closer
3. My Beautiful Baby
4. She Could Have Had Me Step By Step
5. When The Ship Comes In
6. The Ladder (2013 Remastered Version)
7. Will You Ever Be My Friend?
8. Too Close To Heaven (Rolling Piano)
9. Higherbound (Prototype)
10. Happy Birthday B.P. Fallon
11. The Prettiest Girl In Church
12. You Don't Have To Be In The Army To Fight The War
13. Dee Jay Way
14. Lonesome And A Long Way From Home (2013 Remastered Version)
15. Thistlewaite's Declaration
16. Strange Boat (First Play)
17. Lost Highway
18. Higherbound Blues
19. Let Us Be Drinking And Kissing The Women (Sonny Brogan's Jig)
20. Will The Circle Be Unbroken
21. Tenderfootin' (2013 Remastered Version)
22. Too Close To Heaven (2013 Remastered Version)
23. Space Out There, Trevor

CD 3:
1. Steve And Anto's Overture
2. Ain't Leavin, I'm Gone
3. When Will We Be Married (1st Version)
4. When I First Said I Loved Only You, Maggie
5. Love Is Letting Go
6. On My Way To Heaven (1st Version)
7. You In The Sky (1st Version)
8. The Secret Place Of The Most High
9. Too Hot For Cleanhead
10. Wickham's Proclamation
11. Blues For Your Baby (2013 Remastered Version)
12. Lonesome Old Wind (2013 Remastered Version)
13. If Jimi Was Here
14. Soon As I Get Home
15. Sgt Pepper's Lonely Hearts Club Band

CD 4:
1. Billy The Kid
2. Tonight The Bottle Let Me Down
3. Come Live With Me
4. I Miss The Road
5. Higher In Time (Two Pianos)
6. Too Hot For Cleanhead (Fast Version)
7. Higher In Time (Scottish)
8. Higherbound (3rd Tune)
9. A Golden Age
10. You In The Sky (2013 Remastered Version)
11. I Will Meet You In Heaven Again
12. Nobody 'Cept You (2013 Remastered Version)
13. (He Hasn't Been The Same Since) Jimmy Shand
14. Rattle My Bones And Shiver My Soul (2013 Remastered Version)
15. The Scotsman's Delight
16. Killing My Heart
17. Industrial Mr Brown
18. Custer's Blues
19. Shall We Gather By The River
20. Higher In Time Symphony

CD 5:
1. Higherbound (3rd Version)
2. The Grief Of Pan
3. World Party (2013 Remastered Version)
4. Working On A Building
5. If I Can't Have You (2013 Remastered Version)
6. Killing My Heart (2nd Version)
7. Trunk Call
8. Headphone Mix Song
9. Sgt Pepper's Lonely Hearts Club Band (Reprise)
10. When Will We Be Married (2nd Version)
11. Bp's Bathtub Boogie
12. We Will Not Be Lovers (Sax Solo)
13. Heading Down The Highway
14. Strange Boat
15. Fisherman's Blues (2nd Version)
16. Has Anybody Here Seen Hank? (Bridgeman Version)
17. On My Way To Heaven
18. Let Me Feel Holy Again (2013 Remastered Version)
19. A Home In The Meadow
20. Strange Boat (3rd Version) / The Good Ship Sirius
21. The Stolen Child (Prototype)

CD 6:
1. On My Way To Tara
2. Twa Recruitin' Sergeants
3. Incident At Puck Fair
4. And A Bang On The Ear (2013 Remastered Version)
5. Mr Customs Man
6. Strange Boat (Acoustic)
7. Spring Comes To Spiddal
8. In Search Of A Rose (Band)
9. The Stolen Child (Piano Demo)
10. When Will We Be Married (2013 Remastered Version)
11. In Search Of A Rose (Duo)
12. The Good Ship Sirius (Set Of Jigs)
13. This Land Is Your Land
14. Jimmy Hickey's Waltz (2013 Remastered Version)
15. Live Aid And After
16. Carolan's Welcome (2013 Remastered Version)
17. When Ye Go Away (2013 Remastered Version)
18. When Ye Go Away (Frankie's Fiddle)
19. Has Anybody Here Seen Hank? (2013 Remastered Version)
20. The Stolen Child (Vocal Demo)
21. Dunford's Fancy (2013 Remastered Version)
22. The Stolen Child (2013 Remastered Version)
23. Pictish National Anthem (Comati)
24. Bo Diddley Was A Caveman
25. The Last Jam
26. Buckets Of Rain


Trackers List
Tracker Name
udp://p4p.arenabg.com:1337/announce
udp://explodie.org:6969/announce
udp://zephir.monocul.us:6969/announce
udp://tracker.ds.is:6969/announce
udp://open.demonii.si:1337/announce
udp://exodus.desync.com:6969/announce
udp://denis.stalker.upeer.me:6969/announce
udp://tracker.nyaa.uk:6969/announce
udp://retracker.akado-ural.ru:80/announce
udp://tracker-udp.gbitt.info:80/announce
https://tracker.opentracker.se:443/announce
udp://tracker.zum.bi:6969/announce
http://tracker.nyap2p.com:8080/announce
http://announce.datascene.net:8888/9195069bf4e82f843e0f9e7c1e26c58d/announce
udp://opentracker.i2p.rocks:6969/announce
Torrent File Content
The Waterboys ‎– Fisherman's Box [6CD] (2013) [FLAC]
Fishermans Box - Box Front Sealed.jpg (1,018.6 KB)
Torrent_downloaded_from_Demonoid.is_.txt (0.1 KB)
[TGx]Downloaded from torrentgalaxy.to .txt (0.6 KB)

cd1

01 - Stranger To Me.flac (30.3 MB)
02 - Girl Of The North Country.flac (31.2 MB)
03 - I'm So Lonesome I Could Cry.flac (24.0 MB)
04 - Fisherman's Blues (Piano Version).flac (34.9 MB)
05 - Fisherman's Blues.flac (32.2 MB)
06 - Meet Me At The Station.flac (25.7 MB)
07 - I'll Be Your Baby Tonight.flac (26.5 MB)
08 - Born To Be Together.flac (31.2 MB)
09 - The Wayward Wind.flac (27.1 MB)
10 - World Party (1st Version).flac (18.6 MB)
11 - World Party A Golden Age.flac (23.7 MB)
12 - Sleek White Schooner.flac (15.5 MB)
13 - Drunken Head Ghost Of Rimbaud Blues.flac (40.1 MB)
14 - Sweet Thing.flac (49.2 MB)
15 - Sweet Thing (Conclusion).flac (11.6 MB)
16 - Saints And Angels.flac (68.9 MB)
Fisherman's Box (CD1).cue (2.9 KB)
Fisherman's Box (CD1).log (14.7 KB)
Fisherman's Box (CD1).m3u (1.4 KB)
Fishermans Box - Front CD1.jpg (1.0 MB)
audiochecker.log (1.1 KB)

cd2

01 - We Will Not Be Lovers.flac (54.7 MB)
02 - One Step Closer.flac (17.4 MB)
03 - My Beautiful Baby.flac (14.1 MB)
04 - She Could Have Had Me Step By Step.flac (14.0 MB)
05 - When The Ship Comes In.flac (6.0 MB)
06 - The Ladder.flac (17.4 MB)
07 - Will You Ever Be My Friend.flac (20.3 MB)
08 - Too Close To Heaven (Rolling Piano).flac (30.4 MB)
09 - Higherbound (Prototype).flac (6.0 MB)
10 - Happy Birthday Bp Fallon.flac (4.7 MB)
11 - The Prettiest Girl In Church.flac (20.9 MB)
12 - You Don't Have To Be In The Army To Fight In The War.flac (25.6 MB)
13 - Dee Jay Way.flac (4.3 MB)
14 - Lonesome And A Long Way From Home.flac (19.4 MB)
15 - Thistlethwaite's Declaration.flac (5.5 MB)
16 - Strange Boat (First Play).flac (26.5 MB)
17 - Lost Highway.flac (25.5 MB)
18 - Higherbound Blues.flac (13.8 MB)
19 - Let Us Be Drinking And Kissing The Women.flac (11.4 MB)
20 - Will The Circle Be Unbroken.flac (35.4 MB)
21 - Tenderfootin'.flac (35.3 MB)
22 - Too Close To Heaven.flac (82.8 MB)
23 - Space Out There, Trevor.flac (6.0 MB)
Fisherman's Box (CD2).cue (4.2 KB)
Fisherman's Box (CD2).log (19.7 KB)
Fisherman's Box (CD2).m3u (2.0 KB)
Fishermans Box - Front CD2.jpg (1.3 MB)
audiochecker.log (1.5 KB)

cd3

01 - Steve And Anto's Overture.flac (2.2 MB)
02 - Ain't Leavin, I'm Gone.flac (23.3 MB)
03 - When Will We Be Married (1st Version).flac (16.6 MB)
04 - When I First Said I Loved Only You, Maggie.flac (24.2 MB)
05 - Love Is Letting Go.flac (2.5 MB)
06 - On My Way To Heaven (1st Version).flac (32.2 MB)
07 - You In The Sky (1st Version).flac (24.6 MB)
08 - The Secret Place Of The Most High.flac (8.8 MB)
09 - Too Hot For Cleanhead.flac (27.9 MB)
10 - Wickham's Proclamation.flac (11.5 MB)
11 - Blues For Your Baby.flac (43.9 MB)
12 - Lonesome Old Wind.flac (50.4 MB)
13 - If Jimi Was Here.flac (7.7 MB)
14 - Soon As I Get Home.flac (141.3 MB)
15 - Sgt Pepper's Lonely Hearts Club Band.flac (21.0 MB)
Fisherman's Box (CD3).cue (2.8 KB)
Fisherman's Box (CD3).log (14.1 KB)
Fisherman's Box (CD3).m3u (1.4 KB)
Fishermans Box - Front CD3.jpg (1.2 MB)
audiochecker.log (1.1 KB)

cd4

01 - Billy The Kid.flac (14.8 MB)
02 - Tonight The Bottle Let Me Down.flac (15.2 MB)
03 - Come Live With Me.flac (42.0 MB)
04 - I Miss The Road.flac (30.5 MB)
05 - Higher In Time (Two Pianos).flac (19.9 MB)
06 - Too Hot For Cleanhead (Fast Version).flac (16.3 MB)
07 - Higher In Time (Scottish).flac (17.4 MB)
08 - Higherbound (3rd Tune).flac (12.7 MB)
09 - A Golden Age.flac (27.1 MB)
10 - You In The Sky.flac (41.0 MB)
11 - I Will Meet You In Heaven Again.flac (18.7 MB)
12 - Nobody 'Cept You.flac (21.9 MB)
13 - (He Hasn't Been The Same Since) Jimmy Shand.flac (13.1 MB)
14 - Rattle My Bones And Shiver My Soul.flac (18.3 MB)
15 - The Scotsman's Delight.flac (5.5 MB)
16 - Killing My Heart.flac (35.0 MB)
17 - Industrial Mr Brown.flac (12.7 MB)
18 - Custer's Blues.flac (31.5 MB)
19 - Shall We Gather By The River.flac (17.2 MB)
20 - Higher In Time Symphony.flac (77.4 MB)
Fisherman's Box (CD4).cue (3.6 KB)
Fisherman's Box (CD4).log (17.5 KB)
Fisherman's Box (CD4).m3u (1.7 KB)
Fishermans Box - Front CD4.jpg (1.2 MB)
audiochecker.log (1.3 KB)

cd5

01 - Higherbound (3rd Version).flac (38.4 MB)
02 - The Grief Of Pan.flac (13.5 MB)
03 - World Party.flac (36.6 MB)
04 - Working On A Building.flac (21.1 MB)
05 - If I Can't Have You.flac (21.0 MB)
06 - Killing My Heart (2nd Version).flac (29.6 MB)
07 - Trunk Call.flac (6.8 MB)
08 - Headphone Mix Song.flac (8.2 MB)
09 - Sgt Pepper's Lonely Hearts Club Band (Reprise).flac (37.1 MB)
10 - When Will We Be Married (2nd Version).flac (17.5 MB)
11 - BP's Bathtub Boogie.flac (38.9 MB)
12 - We Will Not Be Lovers (Sax Solo).flac (15.2 MB)
13 - Heading D