Howard Jones - Human's Lib (Deluxe Remastered & Expanded Edition) (2018) (320) [DJ]
Seeders : 9
Leechers : 3
Description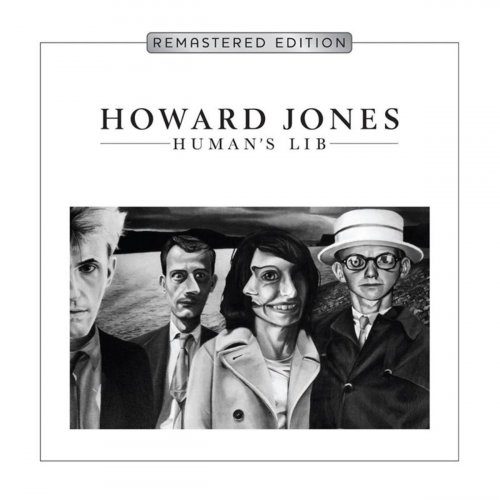 Artist: Howard Jones
Title: Human's Lib (Deluxe Remastered & Expanded Edition)
Year Of Release: 2018
Label: Cherry Red Records
Genre: New Wave, Pop, Synthpop
Quality: MP3 320kbps stereo
Total Time: 02:29:27
Total Size: 1.50 GB

It's funny to think that despite signing him originally and enjoying the fruits of his hit albums in the 1980s, Warners have never issued a deluxe edition of a Howard Jones album. Perhaps frustrated by the inaction, Jones took matters into his own hands about seven years ago and licensed his music from Warners and put out a series of box sets on his own dtox label. Last year the major sold Howard Jones' catalogue to Cherry Red and the latter have finally announced what we all knew was coming: some very extensive reissues of the first two albums Human's Lib (1984) and Dream Into Action (1985).

Two six-disc super deluxe editions of both long-players steal the headlines and these are very extensive indeed. They include remastered albums, all the remixes, unreleased rough mixes and demos, two DVDs, picture disc vinyl and in the case of the debut a "white tape replica pre-contract demo cassette containing remastered versions of four original demo tracks". There are no 5.1 surround mixes which might be a disappointment, but more than enough extra/new material to make a purchase worthwhile. There was no video content at all on Howard's own reissues but an abundance here, with TV appearances, promo videos and the like. The 'Live In Japan' concert is on DVD for the first time as part of the Human's Lib super deluxe.



DISC ONE:
1. CONDITIONING
2. WHAT IS LOVE?
3. PEARL IN THE SHELL
4. HIDE & SEEK
5. HUNT THE SELF
6. NEW SONG
7. DON'T ALWAYS LOOK AT THE RAIN
8. EQUALITY
9. NATURAL
10. HUMAN'S LIB
11. CHINA DANCE
12. NEW SONG (PORTUGUESE 7″ SINGLE MIX)**
13. WHAT IS LOVE? (ROUGH MIX) *
14. DON'T PUT THESE CURSES ON ME (INSTRUMENTAL) *
15. HUMAN'S LIB (FARMYARD MIX) *
16. PEARL IN THE SHELL (ROUGH MIX) *
17. NEW SON (MIX TAKE 1) *

DISC TWO:
1. NEW SONG (ALTERNATIVE 12″)
2. WHAT IS LOVE? (EXTENDED MIX)
3. HIDE & SEEK (EXTENDED VERSION)
4. PEARL IN THE SHELL (US 12″ MIX)
5. CONDITIONING (ORIGINAL MIX)
6. NEW SONG (NEW EXTENDED MIX) *
7. HUNT THE SELF (LIVE AT THE MARQUEE) *
8. BOUNCE RIGHT BACK (INSTRUMENTAL) *
9. TOTAL CONDITIONING *
10. LAW OF THE JUNGLE ***
11. ALWAYS ASKING QUESTIONS (ROUGH MIX) *
12. EQUALITY (ROUGH MIX) *
13. HIDE & SEEK (ROUGH MIX) *

* PREVIOUSLY UNRELEASED
** PREVIOUSLY UNRELEASED DIGITALLY
*** PREVIOUSLY UNRELEASED REMASTERED
Trackers List
Tracker Name
udp://tracker.leechers-paradise.org:6969/announce
udp://tracker.coppersurfer.tk:6969/announce
udp://eddie4.nl:6969/announce
http://91.217.91.21:3218/announce
udp://p4p.arenabg.com:1337/announce
udp://tracker.ds.is:6969/announce
udp://open.demonii.si:1337/announce
udp://exodus.desync.com:6969/announce
udp://denis.stalker.upeer.me:6969/announce
udp://retracker.akado-ural.ru:80/announce
udp://tracker-udp.gbitt.info:80/announce
https://tracker.opentracker.se:443/announce
Torrent File Content
Howard Jones - Human's Lib (Deluxe Remastered & Expanded Edition) (2018) (320)]
01. Conditioning [2018 Remaster].mp3 (10.5 MB)
02. What Is Love_ [2018 Remaster].mp3 (15.0 MB)
03. Pearl in the Shell [2018 Remaster].mp3 (9.2 MB)
04. Hide and Seek [2018 Remaster].mp3 (12.9 MB)
05. Hunt the Self [2018 Remaster].mp3 (8.5 MB)
06. New Song [2018 Remaster].mp3 (9.7 MB)
07. Don't Always Look at the Rain [2018 Remaster].mp3 (9.6 MB)
08. Equality [2018 Remaster].mp3 (10.3 MB)
09. Natural [2018 Remaster].mp3 (10.2 MB)
10. Human's Lib [2018 Remaster].mp3 (9.4 MB)
11. China Dance [2018 Remaster].mp3 (9.0 MB)
12. New Song [Portuguese 7_ Single Mix].mp3 (9.4 MB)
13. What Is Love_ [Rough Mix].mp3 (9.1 MB)
14. Don't Put These Curses on Me [Instrumental].mp3 (7.7 MB)
15. Human's Lib [Farmyard Mix].mp3 (8.9 MB)
16. Pearl in the Shell [Rough Mix].mp3 (9.6 MB)
17. New Song [Mix Take 1].mp3 (9.9 MB)
18. New Song [Alternative 12_].mp3 (14.9 MB)
19. What Is Love_ [Extended Mix].mp3 (15.1 MB)
20. Hide and Seek [Long Version].mp3 (19.6 MB)
21. Pearl in the Shell [US 12_ Mix].mp3 (20.6 MB)
22. Conditioning [Original Mix].mp3 (9.5 MB)
23. New Song [New Extended Mix].mp3 (13.2 MB)
24. Hunt the Self [Live at The Marquee].mp3 (12.6 MB)
25. Bounce Right Back [Instrumental].mp3 (9.4 MB)
26. Total Conditioning [12_ Version].mp3 (18.3 MB)
27. Law Of The Jungle [2018 Remaster].mp3 (7.6 MB)
28. Always Asking Questions [Rough Mix].mp3 (9.4 MB)
29. Equality [Rough Mix].mp3 (9.9 MB)
30. Hide and Seek [Rough Mix].mp3 (13.3 MB)
Torrent_downloaded_from_Demonoid.is_.txt (0.1 KB)
cover.jpg (95.7 KB)

scans

Art Discs

Dream Into Action Bonus Back.png (4.7 MB)
Dream Into Action Bonus CD.png (5.4 MB)
Dream Into Action Bonus Front.png (5.0 MB)
Dream Into Action Bonus Matrix.png (732.9 KB)
Dream Into Action Booklet 01.png (7.2 MB)
Dream Into Action Booklet 02.png (8.5 MB)
Dream Into Action Booklet 03.png (8.4 MB)
Dream Into Action Booklet 04.png (7.9 MB)
Dream Into Action Booklet 05.png (8.7 MB)
Dream Into Action Booklet 06.png (7.9 MB)
Dream Into Action Booklet 07.png (8.3 MB)
Dream Into Action Booklet 08.png (7.9 MB)
Dream Into Action CD1.png (4.9 MB)
Dream Into Action CD2.png (4.6 MB)
Dream Into Action DVD.png (5.1 MB)
Dream Into Action Gatefold Front.png (20.9 MB)
Dream Into Action Gatefold Inside.png (18.5 MB)
Dream Into Action LP Side 1.png (23.5 MB)
Dream Into Action LP Side 2.png (23.0 MB)
Dream Into Action LP Sticker (for Polyethylene Sleeve).png (732.5 KB)
Dream Into Action Matrix 1.png (753.0 KB)
Dream Into Action Matrix 2.png (732.2 KB)
Dream Into Action Matrix DVD.png (751.2 KB)
Last World Dream Back.png (4.4 MB)
Last World Dream DVD Matrix.png (851.0 KB)
Last World Dream DVD.png (4.6 MB)
Last World Dream Front.png (4.7 MB)

Dream Into Action Booklet 01.png (57.1 MB)
Dream Into Action Booklet 02.png (52.0 MB)
Dream Into Action Booklet 03.png (56.8 MB)
Dream Into Action Booklet 04.png (57.7 MB)
Dream Into Action Booklet 05.png (52.3 MB)
Dream Into Action Booklet 06.png (55.6 MB)
Dream Into Action Booklet 07.png (58.3 MB)
Dream Into Action Booklet 08.png (58.6 MB)
Dream Into Action Booklet 09.png (57.8 MB)
Dream Into Action Booklet 10.png (56.9 MB)
Dream Into Action Booklet 11.png (59.9 MB)
Dream Into Action Booklet 12.png (57.2 MB)
Dream Into Action Booklet 13.png (61.4 MB)
Dream Into Action Booklet 14.png (62.6 MB)
Dream Into Action Booklet 15.png (60.2 MB)
Dream Into Action Booklet Back.png (17.5 MB)
Dream Into Action Booklet Front.png (24.6 MB)
Dream Into Action Box Back.png (22.6 MB)
Dream Into Action Box Bottom.png (2.7 MB)
Dream Into Action Box Front + Sticker web.jpg (87.1 KB)
Dream Into Action Box Front.png (22.9 MB)
Dream Into Action Box Left.png (2.9 MB)
Dream Into Action Box Right.png (2.8 MB)
Dream Into Action Box Sticker.png (1.6 MB)
Dream Into Action Box Top.png (2.7 MB)
Dream Into Action Button Badges.png (1.8 MB)
Dream Into Action Card Risk Back.png (1.6 MB)
Dream Into Action Card Risk Front.png (1.6 MB)
Dream Into Action Card.png (25.3 MB)
Dream Into Action Preview.jpg (106.4 KB)