Hero Siege Complete v.5.0.5 [MULTi] [SteamRip] [ACTiVATED] [Linux Native]
Seeders : 0
Leechers : 2
Description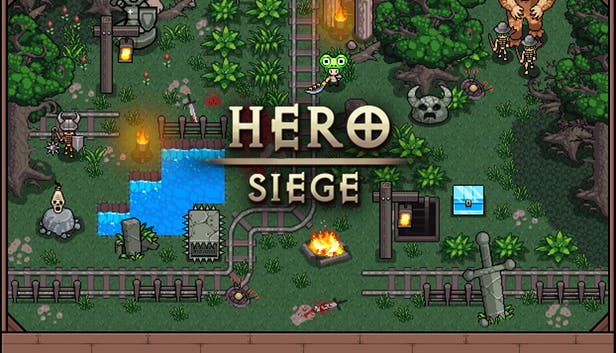 Hero Siege Complete
v.5.0.5 [MULTi] [SteamRip] [ACTiVATED] [Linux Native]


Please, let me know if you find a dead torrent that I uploaded, I will try to revive it.

System requirements :
OS: Ubuntu
Processor: DualCore 1.8 GHZ
Graphics: 512 mb
Storage: 400 MB available space
Additional Notes: This game DOES NOT WORK on low end laptops with INTEGRATED GPU's such as HD4000 ETC.

Description :
Hero Siege is a Hack 'n' Slash game with roguelike- & RPG elements. Annihilate hordes of enemies, grow your talent tree, grind better loot and explore up to 7 Acts enhanced with beautiful Pixel Art graphics! This game offers countless hours of gameplay and up to 4 player online multiplayer!

We developers are interested in your feedback. So if you choose to get the game see you on the forums! - Vexorian

In the depths of Tarethiel a group of monks united the four pieces of the brimstone talisman, waking up the slendering demons below... The Act was fortold in the Ancient Book of Revelations and that Satan would raise from Hell to rule the earth... Someone needs to stop him or else the mankind will soon face extinction!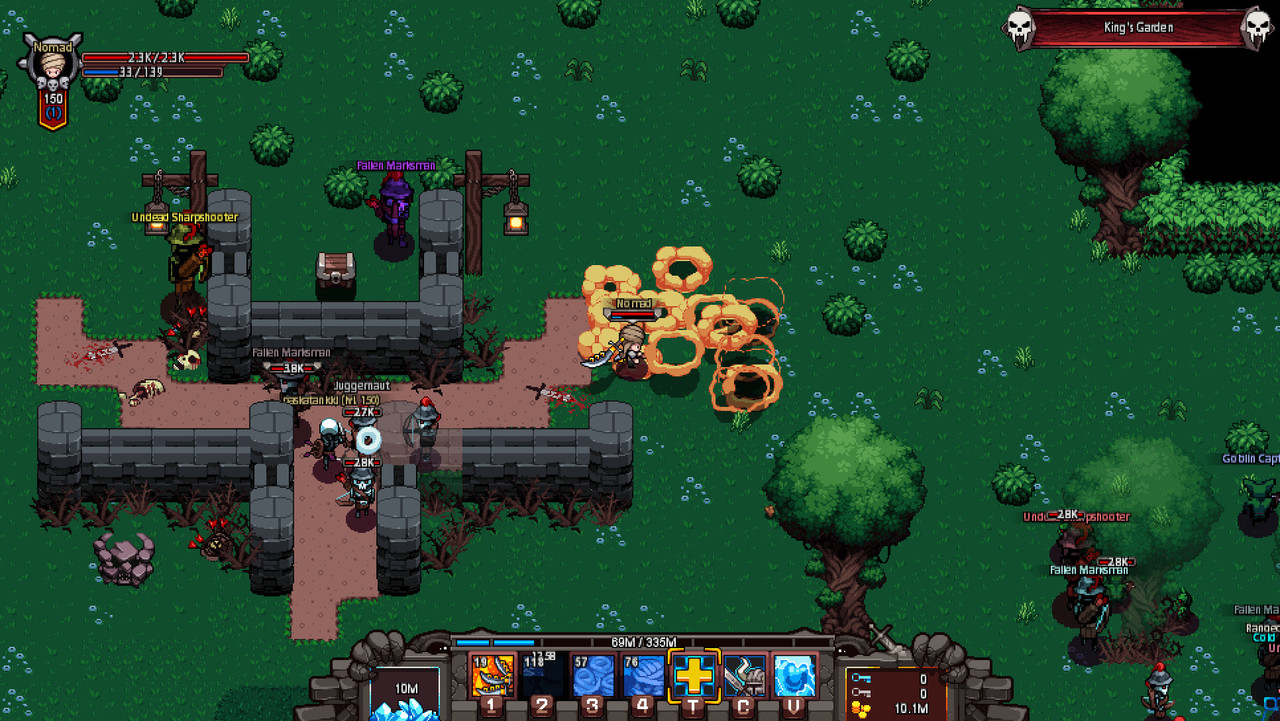 Join our Element/Matrix Community for technical support and talking about games. Non-proprietary, Federated, Decentralized and End to End encrypted.

https://app.element.io/#/room/!OkKnzquFmMGXhFaNoE:matrix.org?via=matrix.org&via=matrix.heghe.info
Trackers List
Tracker Name
udp://tracker.opentrackr.org:1337/announce
udp://tracker.leechers-paradise.org:6969/announce
udp://p4p.arenabg.com:1337/announce
udp://9.rarbg.to:2710/announce
udp://9.rarbg.me:2710/announce
udp://exodus.desync.com:6969/announce
udp://open.stealth.si:80/announce
http://tracker.zamunda.net/announce.php?passkey=d215142725e9d032b80640aa2faabe80
udp://tracker.cyberia.is:6969/announce
udp://retracker.lanta-net.ru:2710/announce
udp://tracker.torrent.eu.org:451/announce
udp://tracker.tiny-vps.com:6969/announce
udp://ipv4.tracker.harry.lu:80/announce
udp://explodie.org:6969/announce
http://h4.trakx.nibba.trade:80/announce
Torrent File Content
Hero Siege Complete (5.0.5)
Hero Siege Complete (5.0.5).sh (444.8 MB)

OST

FLAC

cover.jpg (337.9 KB)
Roland La Goy - Hero Siege Original Soundtrack - 01 Original Menu Theme.flac (8.8 MB)
Roland La Goy - Hero Siege Original Soundtrack - 02 Alternate Menu Theme.flac (8.9 MB)
Roland La Goy - Hero Siege Original Soundtrack - 03 The Depths Of Hell Menu Theme.flac (8.9 MB)
Roland La Goy - Hero Siege Original Soundtrack - 04 Trailer Theme.flac (12.3 MB)
Roland La Goy - Hero Siege Original Soundtrack - 05 Act 1 Theme.flac (19.0 MB)
Roland La Goy - Hero Siege Original Soundtrack - 06 Corrupted Deserts.flac (12.9 MB)
Roland La Goy - Hero Siege Original Soundtrack - 07 Manor Garden.flac (14.1 MB)
Roland La Goy - Hero Siege Original Soundtrack - 08 Manor Of Mevius.flac (12.1 MB)
Roland La Goy - Hero Siege Original Soundtrack - 09 Astral Sanctuary.flac (15.4 MB)
Roland La Goy - Hero Siege Original Soundtrack - 10 Act 5 Theme.flac (19.7 MB)
Roland La Goy - Hero Siege Original Soundtrack - 11 Catacombs.flac (10.8 MB)
Roland La Goy - Hero Siege Original Soundtrack - 12 Monastery.flac (14.6 MB)
Roland La Goy - Hero Siege Original Soundtrack - 13 Steam Train.flac (14.6 MB)
Roland La Goy - Hero Siege Original Soundtrack - 14 Shores Of Pandora.flac (15.0 MB)
Roland La Goy - Hero Siege Original Soundtrack - 15 Sheeponia.flac (12.2 MB)
Roland La Goy - Hero Siege Original Soundtrack - 16 Original Boss Theme.flac (15.5 MB)
Roland La Goy - Hero Siege Original Soundtrack - 17 Gurag.flac (8.8 MB)
Roland La Goy - Hero Siege Original Soundtrack - 18 Death.flac (10.6 MB)
Roland La Goy - Hero Siege Original Soundtrack - 19 Mevius.flac (10.0 MB)
Roland La Goy - Hero Siege Original Soundtrack - 20 Damien.flac (13.5 MB)
Roland La Goy - Hero Siege Original Soundtrack - 21 Anubis.flac (12.1 MB)
Roland La Goy - Hero Siege Original Soundtrack - 22 Karp King.flac (7.1 MB)
Roland La Goy - Hero Siege Original Soundtrack - 23 Uber Inoya.flac (12.3 MB)
Roland La Goy - Hero Siege Original Soundtrack - 24 Campfire.flac (4.9 MB)
Roland La Goy - Hero Siege Original Soundtrack - 25 In Town.flac (8.7 MB)
Roland La Goy - Hero Siege Original Soundtrack - 26 Secret Shop.flac (5.0 MB)
Roland La Goy - Hero Siege Original Soundtrack - 27 Credits.flac (3.6 MB)

MP3

cover.jpg (337.9 KB)
Roland La Goy - Hero Siege Original Soundtrack - 01 Original Menu Theme.mp3 (3.5 MB)
Roland La Goy - Hero Siege Original Soundtrack - 02 Alternate Menu Theme.mp3 (3.5 MB)
Roland La Goy - Hero Siege Original Soundtrack - 03 The Depths Of Hell Menu Theme.mp3 (3.5 MB)
Roland La Goy - Hero Siege Original Soundtrack - 04 Trailer Theme.mp3 (4.9 MB)
Roland La Goy - Hero Siege Original Soundtrack - 05 Act 1 Theme.mp3 (7.1 MB)
Roland La Goy - Hero Siege Original Soundtrack - 06 Corrupted Deserts.mp3 (4.9 MB)
Roland La Goy - Hero Siege Original Soundtrack - 07 Manor Garden.mp3 (4.9 MB)
Roland La Goy - Hero Siege Original Soundtrack - 08 Manor Of Mevius.mp3 (4.9 MB)
Roland La Goy - Hero Siege Original Soundtrack - 09 Astral Sanctuary.mp3 (5.4 MB)
Roland La Goy - Hero Siege Original Soundtrack - 10 Act 5 Theme.mp3 (7.5 MB)
Roland La Goy - Hero Siege Original Soundtrack - 11 Catacombs.mp3 (4.2 MB)
Roland La Goy - Hero Siege Original Soundtrack - 12 Monastery.mp3 (5.8 MB)
Roland La Goy - Hero Siege Original Soundtrack - 13 Steam Train.mp3 (5.0 MB)
Roland La Goy - Hero Siege Original Soundtrack - 14 Shores Of Pandora.mp3 (5.2 MB)
Roland La Goy - Hero Siege Original Soundtrack - 15 Sheeponia.mp3 (4.7 MB)
Roland La Goy - Hero Siege Original Soundtrack - 16 Original Boss Theme.mp3 (5.8 MB)
Roland La Goy - Hero Siege Original Soundtrack - 17 Gurag.mp3 (3.5 MB)
Roland La Goy - Hero Siege Original Soundtrack - 18 Death.mp3 (3.8 MB)
Roland La Goy - Hero Siege Original Soundtrack - 19 Mevius.mp3 (3.9 MB)
Roland La Goy - Hero Siege Original Soundtrack - 20 Damien.mp3 (4.6 MB)
Roland La Goy - Hero Siege Original Soundtrack - 21 Anubis.mp3 (4.3 MB)
Roland La Goy - Hero Siege Original Soundtrack - 22 Karp King.mp3 (2.8 MB)
Roland La Goy - Hero Siege Original Soundtrack - 23 Uber Inoya.mp3 (4.4 MB)
Roland La Goy - Hero Siege Original Soundtrack - 24 Campfire.mp3 (1.8 MB)
Roland La Goy - Hero Siege Original Soundtrack - 25 In Town.mp3 (3.8 MB)
Roland La Goy - Hero Siege Original Soundtrack - 26 Secret Shop.mp3 (2.0 MB)
Roland La Goy - Hero Siege Original Soundtrack - 27 Credits.mp3 (1.4 MB)

OGG

cover.jpg (337.9 KB)
Roland La Goy - Hero Siege Original Soundtrack - 01 Original Menu Theme.ogg (2.3 MB)
Roland La Goy - Hero Siege Original Soundtrack - 02 Alternate Menu Theme.ogg (2.3 MB)
Roland La Goy - Hero Siege Original Soundtrack - 03 The Depths Of Hell Menu Theme.ogg (2.3 MB)
Roland La Goy - Hero Siege Original Soundtrack - 04 Trailer Theme.ogg (3.2 MB)
Roland La Goy - Hero Siege Original Soundtrack - 05 Act 1 Theme.ogg (4.6 MB)
Roland La Goy - Hero Siege Original Soundtrack - 06 Corrupted Deserts.ogg (3.2 MB)
Roland La Goy - Hero Siege Original Soundtrack - 07 Manor Garden.ogg (3.4 MB)
Roland La Goy - Hero Siege Original Soundtrack - 08 Manor Of Mevius.ogg (3.1 MB)
Roland La Goy - Hero Siege Original Soundtrack - 09 Astral Sanctuary.ogg (3.7 MB)
Roland La Goy - Hero Siege Original Soundtrack - 10 Act 5 Theme.ogg (4.6 MB)
Roland La Goy - Hero Siege Original Soundtrack - 11 Catacombs.ogg (2.8 MB)
Roland La Goy - Hero Siege Original Soundtrack - 12 Monastery.ogg (3.7 MB)
Roland La Goy - Hero Siege Original Soundtrack - 13 Steam Train.ogg (3.5 MB)
Roland La Goy - Hero Siege Original Soundtrack - 14 Shores Of Pandora.ogg (3.4 MB)
Roland La Goy - Hero Siege Original Soundtrack - 15 Sheeponia.ogg (3.0 MB)
Roland La Goy - Hero Siege Original Soundtrack - 16 Original Boss Theme.ogg (3.8 MB)
Roland La Goy - Hero Siege Original Soundtrack - 17 Gurag.ogg (2.4 MB)
Roland La Goy - Hero Siege Original Soundtrack - 18 Death.ogg (2.6 MB)
Roland La Goy - Hero Siege Original Soundtrack - 19 Mevius.ogg (2.5 MB)
Roland La Goy - Hero Siege Original Soundtrack - 20 Damien.ogg (3.2 MB)
Roland La Goy - Hero Siege Original Soundtrack - 21 Anubis.ogg (3.3 MB)
Roland La Goy - Hero Siege Original Soundtrack - 22 Karp King.ogg (1.9 MB)
Roland La Goy - Hero Siege Original Soundtrack - 23 Uber Inoya.ogg (3.0